From routine cleanings and fillings to cosmetic procedures and TMJ (jaw joint problems) treatment, Dr. Stoller's office is equipped to handle all your dental needs. To help you understand your options, we've included descriptions of some of our leading services on this page.
Whether you're a high school senior or a senior citizen, the smile of your dreams is within reach. There's so much that can be done these days to enhance the appeal of a smile. From powerful, professional whitening treatments to amazingly realistic porcelain veneers to state-of-the-art dental implants, there's a wide range of exciting possibilities for men and women of any age. At our office, you'll get the best modern dentistry has to offer!
Our Cosmetic Dentistry services include:
We also offer:
Implant Dentistry
If you are missing one or more teeth, dental implants offer the comfort and security of a permanent replacement that looks and functions just like your natural teeth. Dental implants also help preserve the tooth-supporting bone in your jaw that deteriorates when even one tooth is lost.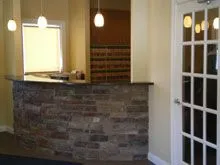 Initial Oral Examination
Your initial oral examination includes a visual examination, charting, periodontal probing, diagnosis and treatment recommendations. We will also take x-rays, which includes the panoramic x-ray for proper diagnosis of the anterior (front) and posterior (back) teeth as well as the bite-wing x-ray series for proper diagnosis of proximal decay of posterior teeth.

Teeth Whitening
Our state-of-the-art, in-office Power Bleaching system will make your teeth whiter in less than 1.5 hours. Another option is our home bleaching system you take with you for results in 2 weeks. You can also consider a combination program of both systems for optimal, long-term results.
Emergency Dental Treatment
If you have a life-threatening or severe injury, call 911 or go directly to the nearest hospital emergency room. We can treat a variety of traumatic dental injuries, including teeth that have been chipped, moved, or knocked out entirely. Please call our office for assistance.