My Blog
Posts for tag: oral hygiene
By Terrill Stoller, D.D.S
May 23, 2017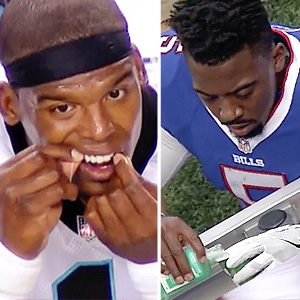 Everyone knows that in the game of football, quarterbacks are looked up to as team leaders. That's why we're so pleased to see some NFL QB's setting great examples of… wait for it… excellent oral hygiene.
First, at the 2016 season opener against the Broncos, Cam Newton of the Carolina Panthers was spotted on the bench; in his hands was a strand of dental floss. In between plays, the 2105 MVP was observed giving his hard-to-reach tooth surfaces a good cleaning with the floss.
Later, Buffalo Bills QB Tyrod Taylor was seen on the sideline of a game against the 49ers — with a bottle of mouthwash. Taylor took a swig, swished it around his mouth for a minute, and spit it out. Was he trying to make his breath fresher in the huddle when he called out plays?
Maybe… but in fact, a good mouthrinse can be much more than a short-lived breath freshener.
Cosmetic rinses can leave your breath with a minty taste or pleasant smell — but the sensation is only temporary. And while there's nothing wrong with having good-smelling breath, using a cosmetic mouthwash doesn't improve your oral hygiene — in fact, it can actually mask odors that may indicate a problem, such as tooth decay or gum disease.
Using a therapeutic mouthrinse, however, can actually enhance your oral health. Many commonly available therapeutic rinses contain anti-cariogenic (cavity-fighting) ingredients, such as fluoride; these can help prevent tooth decay and cavity formation by strengthening tooth enamel. Others contain antibacterial ingredients; these can help control the harmful oral bacteria found in plaque — the sticky film that can build up on your teeth in between cleanings. Some antibacterial mouthrinses are available over-the-counter, while others are prescription-only. When used along with brushing and flossing, they can reduce gum disease (gingivitis) and promote good oral health.
So why did Taylor rinse? His coach Rex Ryan later explained that he was cleaning out his mouth after a hard hit, which may have caused some bleeding. Ryan also noted, "He [Taylor] does have the best smelling breath in the league for any quarterback." The coach didn't explain how he knows that — but never mind. The takeaway is that a cosmetic rinse may be OK for a quick fix — but when it comes to good oral hygiene, using a therapeutic mouthrinse as a part of your daily routine (along with flossing and brushing) can really step up your game.
If you would like more information about mouthrinses and oral hygiene, contact us or schedule a consultation.
By Terrill Stoller, D.D.S
May 08, 2017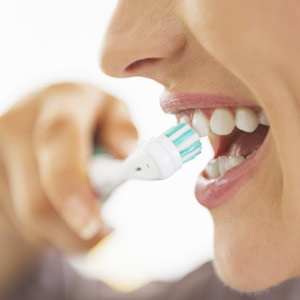 Yes, you brush your teeth every day. But how much do you really know about this important habit? Test your knowledge with our quiz on dental vocabulary.
Choose the correct meaning for:
Oral Hygiene

Clean language
The practice of keeping your teeth and gums clean
A shade of lipstick
A type of dental surgery

Biofilm

A movie about a person's life, such as "Ray Charles"
A new kind of cling wrap
An accumulation of bacteria that forms a whitish, sticky film
A tooth whitener

Dental plaque

A type of instrument used to clean teeth
Bacteria that accumulate on teeth and gums
An award given at the Dental Oscar ceremony
Your dentist's framed diploma

Inflammation

The body's response to harmful bacteria
A condition in which your gums become red and swollen and bleed easily
A cause of gingivitis
All of the above

Periodontal disease

Any disease caused by bacteria
Tooth decay
Whitish sores on the lips
Gum disease caused by dental plaque

Disclosants

Simple dyes that can stain plaque and make it visible
Television reality shows
Dental x-rays
A section of your annual tax report

Gingivitis

Any infection in the oral area
Tooth decay
Inflammation of the gums that can lead to periodontal disease
All of the above

Dental caries

Gum disease
A task carried out during your teeth cleaning
A technique of orthodontia
Tooth decay

Fluoride

A mineral that has been found to prevent tooth decay
The location of a famous dental school
A gasoline additive
A type of house paint

Inter-dental Area

Referring to the area between your teeth
The area regular proper flossing will keep clean
Area that wood points and specially designed brushes can be used to clean
All of the above
Answers: 1. b, 2. c, 3. b, 4. d, 5. d, 6. a, 7. c, 8. d, 9. a, 10. d
How did you do on our quiz? The more you know about keeping your teeth and gums clean and healthy, the better you will look and feel. Contact us today to schedule an appointment or to discuss your questions about oral hygiene. You can also learn more by reading the Dear Doctor article, "Oral Hygiene Behavior."
By Terrill Stoller, D.D.S
March 16, 2017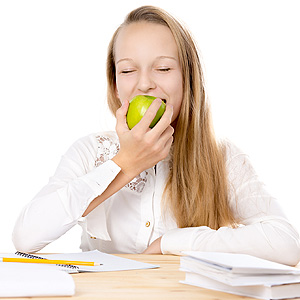 "The Freshman 15" is a popular way of referring to the phenomenon of new college students gaining weight during their freshman year (although the average is less than fifteen pounds). According to research, college students gain weight mainly due to an unhealthy diet and lack of exercise.
If you're experiencing this as a college student, you should also know poor diet and lifestyle choices harm your teeth and gums as well. If you don't want to encounter major dental problems, then you need to make some changes beginning with the same cause for your weight gain: what you eat and drink.
Like the rest of your body, your teeth and gums have the best chance for being healthy when you're eating a balanced, nutritional diet low in added sugar. And it's not just mealtime: constant snacking on sweets not only loads on the calories, it also feeds disease-causing oral bacteria. Sipping on acidic beverages like sodas, sports or energy drinks also increases the levels of acid that can erode tooth enamel.
Some lifestyle habits can also affect oral health. Using tobacco (smoked or smokeless) inhibits your mouth's natural healing properties and makes you more susceptible to dental disease. While it may be cool to get piercings in your lips, cheeks or tongue, the hardware can cause gum recession, chipped teeth and soft tissue cuts susceptible to infection. And unsafe sexual practices increase your risk for contracting the human papilloma virus (HPV16) that's been linked with oral cancer, among other serious health problems.
Last but not least, how you regularly care for your teeth and gums can make the biggest difference of all. You should brush and floss your teeth ideally twice a day to clean away plaque, a thin film of disease-causing bacteria and food particles. And twice-a-year dental cleanings and checkups will round out your prevention efforts against tooth decay or periodontal (gum) disease.
Making your own choices is a rite of passage into adulthood. Making good choices for your teeth and gums will help ensure they remain healthy for a long time to come.
If you would like more information on maintaining dental health during the college years, please contact us or schedule an appointment for a consultation. You can also learn more about this topic by reading the Dear Doctor magazine article "10 Health Tips for College Students."