My Blog
Posts for tag: oral health
By Terrill Stoller, D.D.S
September 28, 2017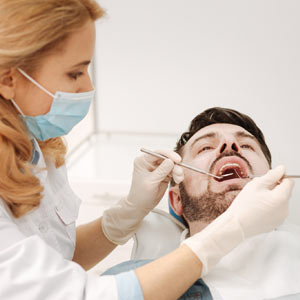 Cancer treatment can consume all of your focus to the exclusion of other health issues. But these other issues still need attention, especially how treating cancer could affect other parts of your body. That definitely includes your teeth and gums.
Treatments like radiation or chemotherapy eradicate cancer cells disrupting their growth. Unfortunately, they may do the same to benign cells — "collateral damage," so to speak. This could cause a ripple effect throughout the body, including in the mouth. Radiation, for example, could damage the salivary glands and result in reduced salivary flow. Because saliva neutralizes acid and diminishes bacterial growth, your risk for tooth decay as well as periodontal (gum) disease could increase.
While you may be able to recover from reduced salivary flow after treatment, your health could suffer in the meantime, even to the point of tooth and bone loss. Fortunately, there are some things we can do before and during your treatment.
If you can, have any necessary dental work performed well before you begin cancer treatment. You'll be more resistant to side effects if you can start treatment with as healthy a mouth as possible.
Keep up your regular dental visits if at all possible, or see us if you begin seeing signs of dental disease. By staying on schedule, we'll have a better chance of detecting and treating problems before they advance too far; we may also be able to provide preventive measures like topical fluoride applications to help keep your teeth resistant to disease. If you need more extensive treatment like tooth extraction or surgery we may need to coordinate with your cancer treatment provider.
Above all, continue to practice daily brushing and flossing to remove plaque, the main cause of dental disease. Drink plenty of water or take substances that boost salivation. And be sure to eat a nutritious diet while also reducing or eliminating tobacco or alcohol from your lifestyle.
Taking these steps will help protect your teeth and gums during cancer treatment. As a result, you have a better chance for maintaining your dental health during this critical time in your life.
If you would like more information on dental care during cancer treatment, please contact us or schedule an appointment for a consultation. You can also learn more about this topic by reading the Dear Doctor magazine article "Oral Health During Cancer Treatment."
By Terrill Stoller, D.D.S
June 07, 2017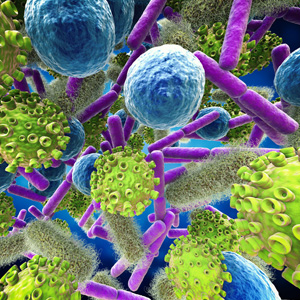 Most people associate bacteria with disease and ill health. But the real story about the trillions of microscopic organisms now living in and on your body is a bit more complicated. With recent advances in genetic code research scientists are learning that many of these microorganisms you're hosting are actually beneficial for you — including your teeth and gums.
Beginning at birth and throughout your lifetime you are continually developing a distinct microbiome — actual communities of bacteria and other microorganisms that inhabit your body. As your microbiome develops it helps train your immune system to distinguish between "good" bacteria that help with digestion and other bodily processes and "bad" bacteria that cause disease.  And it continually adapts to changes in what we eat, the pets we acquire or the drugs we take.
But lifestyle choices like diet can also have a detrimental effect, causing harmful bacteria to become dominant. This seems to be the case with Streptococcus mutans, the bacterial strain most associated with tooth decay. Scientists have analyzed biofilm (plaque deposits on teeth) from the pre-industrial era before 1900 and compared it with modern biofilm samples. They've found Streptococcus mutans levels to be much higher in modern biofilm, which they directly attribute to the modern Western diet.
As we gain a better understanding of these findings and of the role of bacteria in our lives, it could change many health recommendations not only about diet but about medications too. In the fight against disease, for example, we've used antibiotics to eradicate infection-causing microorganisms, but with a broad destructive ability that can also kill many beneficial strains of bacteria. It's hoped as our knowledge grows we'll be able to create newer drugs that more narrowly target harmful microorganisms while not affecting beneficial ones.
There's a new appreciation emerging for bacteria's role in our lives. As a result efforts to rebalance a person's microbiome when they become sick may eventually become a critical element in healthcare treatment strategies. The benefits of this strategy for health, including for our teeth and gums, could be quite impressive.
If you would like more information on the role of bacteria in oral health, please contact us or schedule an appointment for a consultation. You can also learn more about this topic by reading the Dear Doctor magazine article "New Research Shows Bacteria Essential to Health."
By Terrill Stoller, D.D.S
March 16, 2017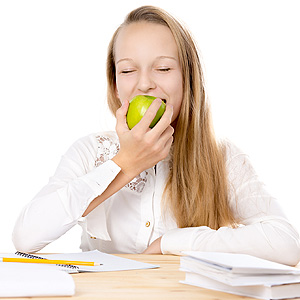 "The Freshman 15" is a popular way of referring to the phenomenon of new college students gaining weight during their freshman year (although the average is less than fifteen pounds). According to research, college students gain weight mainly due to an unhealthy diet and lack of exercise.
If you're experiencing this as a college student, you should also know poor diet and lifestyle choices harm your teeth and gums as well. If you don't want to encounter major dental problems, then you need to make some changes beginning with the same cause for your weight gain: what you eat and drink.
Like the rest of your body, your teeth and gums have the best chance for being healthy when you're eating a balanced, nutritional diet low in added sugar. And it's not just mealtime: constant snacking on sweets not only loads on the calories, it also feeds disease-causing oral bacteria. Sipping on acidic beverages like sodas, sports or energy drinks also increases the levels of acid that can erode tooth enamel.
Some lifestyle habits can also affect oral health. Using tobacco (smoked or smokeless) inhibits your mouth's natural healing properties and makes you more susceptible to dental disease. While it may be cool to get piercings in your lips, cheeks or tongue, the hardware can cause gum recession, chipped teeth and soft tissue cuts susceptible to infection. And unsafe sexual practices increase your risk for contracting the human papilloma virus (HPV16) that's been linked with oral cancer, among other serious health problems.
Last but not least, how you regularly care for your teeth and gums can make the biggest difference of all. You should brush and floss your teeth ideally twice a day to clean away plaque, a thin film of disease-causing bacteria and food particles. And twice-a-year dental cleanings and checkups will round out your prevention efforts against tooth decay or periodontal (gum) disease.
Making your own choices is a rite of passage into adulthood. Making good choices for your teeth and gums will help ensure they remain healthy for a long time to come.
If you would like more information on maintaining dental health during the college years, please contact us or schedule an appointment for a consultation. You can also learn more about this topic by reading the Dear Doctor magazine article "10 Health Tips for College Students."